Its exciting time for you and your baby. He has turned 7 months and started scooting. As a parent, it is so much fun to see your baby exploring. You cannot give full attention all the time and you also have lots of household work to do.So,then comes baby proofing.
Generally, babies tend to:
Get bored in one space so it's practically difficult to baby-proof entire house, but it's more feasible to create some places where your baby can spend most of your time.
They learn slowly to take out baby-proofing stuffs and make their way to explore.
So, I thought of not preparing beforehand and preparing after learning. We experimented few things , but he used to get way out of our preparations. Babies are smart.
Finally, we got few things that worked for us. I am sharing those ideas with you. I will suggest you to take these ideas and try to customize for yourself. No matter how prepared you are ,you will still leave some loose knots for them. So it's better if you give yourself time and let them help you solve the mystery..
There are many baby proofing items available in the market like:
1) Baby Fence/Barrier- Panels can be positioned or removed to fit your space.Price range -30-170$
Link- https://www.amazon.com/baby-fence/s?k=baby+fence
Purpose- These are fixed mostly at a space and can be used to either make a space for playing or barrier or babies to not entering a space.This may be useful to gate staircase.
When the purpose is to make a free space for playing I have rearranged my sofa in corner in a way that it covers from one side, the other two sides are wall now just one side is left that we cover with big sofa pillows. To make it interesting for babies ,use mat and toys .
Why I prefer making space this way:
Economical- doesn't cost any bucks
Doesn't add an extra stuff in my house and so more free space.
We spend most of the time in the hall and that's the easiest way I can have an eye on him when I am in the kitchen and still not in his sight so that he stays busy with himself and safe. Babies like to stay around you when they see you.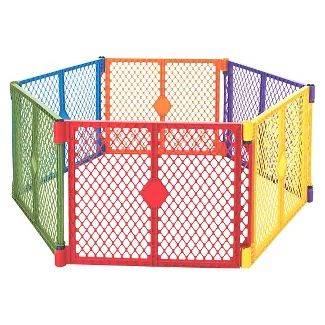 2) Outlet covers
It's not easy to put in and out outlet covers every time. It can become a choking hazard if loose plastic covers are kept anywhere after removing them. Kids are smart and they will eventually learn how to remove them.
Close the electric sockets that you don't use.Close the electric sockets that you don't use with tissue paper color paper and tape. Remove the lamps in daytime and make whole space free for them to play.
3) Use pillows and cushions as a prop
They are not just the easiest and safest way, but you can use them for giving them commando training, What's that. Here it is..
The field is set with pillows and wedge pillow and side cushioning with blankets to avoid head injury. Instructor (we) sits on the other side or place something that interests him. This cute commando loves his task and run with the aim in his mind. He falls, but gets up with all excitement to finish his task. He is very happy when he clears his task clearing all the impediments. Kudos!!!. Try this with your cuteness safely at home and let me know in comment how fun it was.
Use blanket and pillows when babies are learning to walk or stand to prevent head injury
4) Removing the Hazard
When you are nearby him and he is exploring,make sure you remove hazards like :
Electric boards (my baby is fond of electric cables.. At this age they teeth and that's one of the soothing and easy things to take in mouth). I have put extension cord with all the cables on my table which he can't reach.Clip all the wires together or use cello tape.Likewise, other charging cables are in other room which we close when not around him.Likewise look around in your place and remove the hazards.
Bathroom Hazards: Remember that babies and toddlers are often drawn to playing in the toilet and opening bathroom cabinets which are often filled with harmful chemicals and medications.You can use cabinet locks or magnet . In fact,I consider keeping the bathroom door locked or supervise kids using the bathroom at all times when they use it
4) Using mobile phones instead of camera.
I think camera is a good investment, but if you don't want to go for it you can use mobile video call or tablet to see your baby while sleeping.
5) Cabinet protector
Use strong magnet for cabinet which is difficult for babies to pull.
6) Safety in Crib is a must
Use appropriate crib height for your baby's age. Fitted sheet and no item or toys in the child's bed is recommended.
We will love to hear from you any free baby-proof ideas you have.
Check out our blog on introducing baby's first food 101– https://livingmyblogs.com/2021/04/03/babys-first-food-101-everything-about-starting-solids/
Check out our travel experience – https:https://livingmyblogs.com/2021/04/22/a-trek-to-remember-pindari-glacier-trek